poker analyzer device
---
K4 poker analyzer is the latest model of poker analyzer in 2016. With this new analyzer, the poker players will have more pleasure and benefits to enjoy the games. This great device has the following Features.1. Any poker games can be applied to the K4 poker analyzer, such as Texas Holdem, 4-card Omaha, 5-card Omaha, High Cards, Rhonda and so on.2. The versions of language setting can... Read More >
Category: poker analyzer cheat

Get Price Now
---
CVK 680 cheat poker analyzer device for barcode poker is the best and newest poker analyzing app in 2020. With the best photo software system driver developed by CVK, the camera works in an extremely large range, including working outdoors in strong sunlight, and is ideal for customers in India and the Middle East.3. Read the bar coded cards at ...
Read More >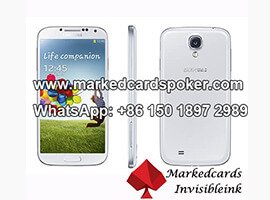 Description:Color: White;Origin: China;Size: 13.7cm*7.1cm*0.7cm;Built-in Scanner: double;Report Speed: 0.1 second;Being different from the early model of CVK analyzers, the CVK350 has a local scanning camera. It can scan the barcode marked cards directly and then analyze the signal and information. The s...
Read More >
This is our new updated and latest model of Samsung poker analyzer. It is a smart mobile phone in black plastic. What is more important, it is a poker analyzer which set the local infrared camera inside it. It has more functions than the earlier Samsung 2014-2015 K3 poker analyzer.This analyzer can be set with 3 poker games: such as Texas...
Read More >
CVK500 poker analyzer is the latest poker scanner system of CVK series poker analyzer in the world. It is a great device for many poker games like Texas Holdem, Omaha or Blackjack, etc.The difference is that CVK500 could be processed with single lens or dual scanning camera inside for scanning invisible ink secret marked cards. Due to the s...
Read More >
Maybe we have heard of the laser bar code marked cards Texas and Omaha scanning system, but do you know the latest one to one scanning system which can operate by one person? We have such one to one free poker software inside gam poker analyzer for sale.The whole poker scanning system includes one mobile phone and a car key bar code cards...
Read More >
GS invisible ink marked cards suppliers have rolled out one kind of high-tech PK King S608 playing poker cards analyzer recently. This latest most fashionable poker analyzer has the same appearance as Samsung mobile phone and it is a real phone which can use it to make calls, take pictures and surf the Internet, etc. It is absolutely a good cove...
Read More >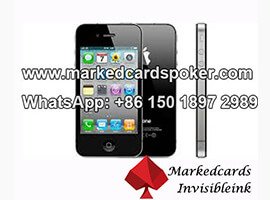 GS invisible ink pen contact lenses marked cards suppliers rolled out the latest AKK K2 playing cards scanner analyzer with single spy camera.Compared to AKK K2 poker winner predictor analyzer with external lens, this latest all-in-one K2 poker analyzer can scan marking cards with invisible ink laser barcode. And the scanning distance is 25...
Read More >
AKK K5 is the newest model mobile phone poker analyzers in AKK series playing cards analyzer, which has more functions and work well than AKK K40 poker analyzers or any earlier edition. This kind of AKK K50 poker analyzer is processed on the base of original Samsung S6 which uses built-in battery. In other words, the advanced professional K5 pok...
Read More >
PK King S708 playing cards scanner in white color has more fashionable outward look than any other old poker analyzer. You can choose 5 kinds of poker games in this PK King S708 scanner analyzer, such as Texas Holdem, Omaha and Flush games, etc.The whole set of PK King S708 poker analyzer include one Bluetooth smart watch, one remote contro...
Read More >