Home > Products > Marked Bicycle Cards > Plastic Bicycle Marked Cards Fournier Prestige for Contact Lenses
---
Plastic Bicycle Marked Cards Fournier Prestige for Contact Lenses
DESCRIPTION
---
Are you looking for a deck of cards that can last longer and give you an edge in poker games? Do you love Bicycle cards but want something more special and exclusive? If so, you may be interested in Fournier Prestige Bicycle marked cards. These are not your ordinary Bicycle cards, but premium ones that are made of 100% plastic and marked with invisible ink for special contact lenses. Here, we will tell you everything about these marked cards, including their features, their types of markings, and how to use them in poker.
Features of Fournier Prestige Bicycle Marked Poker Cards
Fournier Prestige Bicycle marked cards have several advantages over other Bicycle cards.
First of all, the original cards are produced by Fournier in Spain, which is a renowned manufacturer of playing cards in Europe. Fournier, a long-established international company focused on the poker industry, joined forces with the USPCC (manufacturing the Bicycle brand) in 1986 to form a combination of world-leading companies with a high reputation for quality control.

Second, these cards are made of 100% plastic material, which makes them more durable and resistant to bending, scratching, and fading. They can last up to 50 times longer than paper cards.

Third, plastic Bicycle standard cards that feel like paper and feature the 808 design. They have a smooth surface and a good hand feel, which makes them comfortable and enjoyable to play with. They are suitable for both professional and casual players.

Fourth, based on their excellent material and surface treatment, they are better suited than other playing cards to be marked with invisible ink on the card backs, which can only be seen by wearing special IR contact lenses or sunglasses. These markings are clear, durable, hard to fade, long-lasting, and easy to read, but undetectable by others.
Types of Markings on the Card
The invisible markings on Fournier Prestige Bicycle contact lens marked cards are designed to suit different levels of players. There are three main types of markings for choice.
The first one is "a big middle font". This type of mark displays the suit and the value of the card in a large font in the middle of the card back. It is easy to read and suitable for beginners.

The second one is "smaller fonts on four corners". This type of mark shows the suit and the value of the card in smaller fonts on the four corners of the card back. It is more discreet and right for advanced players.

The third one is "tiny fonts on white borders". This type of mark reveals the suit and the value of the card in tiny fonts on the white borders of the card back. It is the most secret and suitable for professional players.

Besides these, we can also customize your marks according to your special and reasonable demands.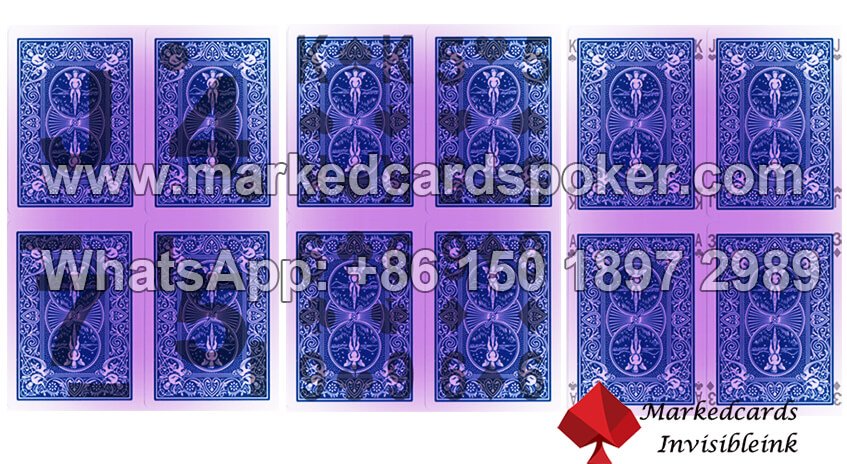 How to Use Fournier Prestige Bicycle Marked Cards in Poker?
Fournier Prestige Bicycle marked cards can help you win poker games by giving you more information and confidence. You can use these marked cards in various poker games, such as Texas Holdem, Omaha, Blackjack, Baccarat, etc. You just need to wear infrared contact lenses or marked card sunglasses that can see the invisible marks on the cards. Then you can know your opponents' cards and make better decisions accordingly. You will have more control and advantage in the game, but only if you practice repeatedly to recognize the marks more easily.
Conclusion
This Bicycle marked deck is a great choice for poker lovers who want to change their luck. They are made of excellent material and marked with invisible ink by our experienced technicians with optional marking types for poker contact lenses. If you are interested in these marked cards, don't hesitate to contact us (WhatsApp) for more details and prices.
Price: Contact us for prices
Brand: Bicycle
Original: Fournier Company in Spain
Material: 100% Plastic
Colors: Blue, Red
Card Readers: Infrared Contact Lenses or Glasses, Poker Contact Lenses
Types of Markings:
* A Big Middle Font
* Four Small Fonts on the Corners
* Tiny Fonts on White Borders
plastic-bicycle-marked-cards-fournier-prestige-for-contact-lenses.jpg
red-bicycle-marked-cards-fournier-prestige.jpg