---
How to Choose Good Quality Infrared Contact Lenses?
Updated: 2021-02-23
How to choose good quality infrared contact lenses? First of all, you got to know about your eyes. Because as a good supplier of infrared contact lenses, there are many kinds of these marked cards contact lenses for you to choose. For example, we are the biggest retailers of contact lenses in the world. Our database includes a wide range of lenses for normal eyes and also for those who with a wide range of vision problems, from nearsightedness to farsightedness. Also, for special eyes color, one kinds of special lenses are designed by our technicians.
Why would you need quality infrared contact lenses?
On one hand, you want to keep your eyes health. On the other hand, it is necessary for you to read the marked poker cards with perfect clarity. Based on these two purposes, it is no doubt that every conspirator or poker cheaters desire to know how to choose good quality infrared contact lenses for themselves.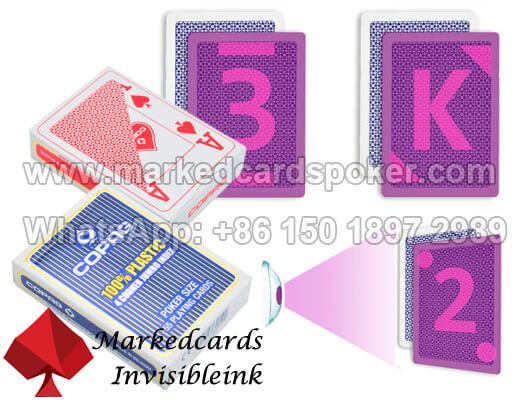 In most of cases, most of supplier would ask about your original eyes color. In detail, the question is ask about your eyes' pupil. Some are black, brown while some are green or blue. Only know your eyes color do help you to choose suitable IR contact lenses at the first place. Then we would ask if your eyes with some vision problem: nearsightedness or farsightedness. If so, we would as you what's the power/strength of your glasses? Or How strong are your glasses? You may said I am -3.5 diopters in both eyes. And our technicians would process one pair of marked cards lenses which are suitable for your eyes. The second question about myopia is the also important but easily overlooked. It is also a hinge to choose quality lenses except the eyes color.
Of course, a pair of good quality also has a closely related to the preservation method. Do you know how to keep infrared contact lenses? Good quality infrared contact lenses can help you play poker cards games easily. First of all, you need to change the storage box at a fixed period. It is about half a year to change it. The second, you need to clean them after using them every day. At last, infrared contact lenses cannot be explored by the direct sunlight so that you could keep them in the cool place. The most important thing is you need to wash your hands every day before you wearing infrared contact lenses to see marked decks.
Infrared contact lenses are process by high quality contact lenses and good invisible ink. Other poker players will not find the secret at all. Just feeling free to using infrared contact lenses for reading marked decks.
Keep reading: How to choose the best marked cards for contact lenses?