---
How to Choose Marking Pattern if Buy Marked Cards?
Updated: 2021-03-10
When it comes to how to choose marking pattern if buy marked cards, many poker players may not know there are marking patterns they can choose when buy invisible ink marked cards for infrared contact lenses to read. To this question, we are going to explain details and then you may have a clear idea which marking pattern is best for you.
---
Marked deck of cards with a big font in the middle with two suits on their back is the most common one used in the poker tricks. So big and clear that you can read the marked cards at a longer distance. Even in a darker environment, you're still able to read them.

A big font in the middle with 2 suits
---
The other one is marked playing cards with four small fonts with four suits which scatter on the back of card. It is known to all that, in some games, players hold their cards in their hand necessarily. If you still use the above marking pattern, you may not identify each card within a very short time because the big font is possible totally hidden. For this situation, you may need to play with this marked cards.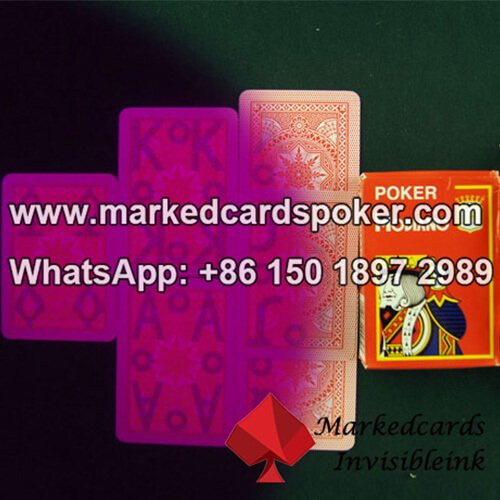 4 small fonts with 4 suits
---
The third one is so-called customized marking patterns, which is suitable for those who play Blackjack or Baccarat. The marked cards with customized marking patterns are design to help players detect each cards when they wear the infrared contact lenses. Dealing shoe is the device used in the Blackjack or Baccarat. Many player think it is hard to cheat at these games because the before dealt, the cards are hold in the dealing shoe. Our pro technicians will utilize the hole of dealing shoe in order to make the optimal markings to you.

Customized marking patterns
---
Nothing short of a deck of marked cards with suitable marking pattern can help you owe the biggest edge at poker. So if buy marked cards, may wish to see which kind of mark is more suitable for you here.