marked decks
---
Are you still strive for learning various strategies for Texas Holdem poker? Are you still confused to lose too much money in the poker game? Are you still doubt that it is really invisible poker cards?It is real exist, marked poker cards also known as secret invisible ink marked poker cards, it means you can see the suits and numbers from the back by special invisible ink kit reader. Dal ... Read More >
Category: marked cards

Get Price Now
---
Many people have watched magic show but seldom try to give a magic show, if you are one of whom do not know magic trick, you can learn from our passage or products.Bicycle red prestige barcode marked decks are decks of playing cards magic cards, they are always used in magic performance by magicians. GS made Bicycle red Prestige barcode mar...
Read More >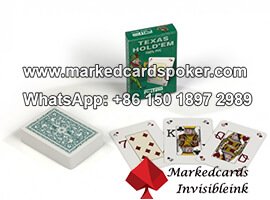 Perspective marked cards are more simple than other cheating cards, magic marked cards or secret code playing cards. If you using password playing cards, you need to keep the secret code in mind while the perspective marked cards can be seen through by wearing contact lenses. Therefore, you need to wear our contact lenses for seeing through the ...
Read More >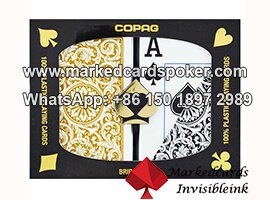 The copag 1546 marked playing cards printed with the invisible bar codes on sides are for poker analyzer system cheating.There has no difference between the barcode marked cards and the original Copag 1546 playing cards. It is harder to spot when the marked cards are shuffled. In addition, the Copag 1546 poker cards marking barcodes are sca...
Read More >
Copag 4PIP marking playing cards are printed with invisible ink bar codes on the sides for poker cards games gambling. You will find that there has no difference between barcode Copag 4PIP playing cards or backside luminous ink marking cards or regular Copag 4PIP decks. It is difficult to be spot by naked eyes when poker cards are shuffling....
Read More >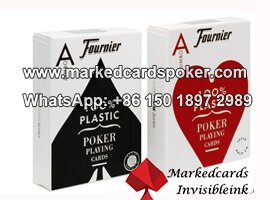 Fournier poker cards are welcomed by poker players especially in Europe. GS luminous marked cards invisible ink glasses manufacturer have rolled out barcode invisible ink secret special marking cards in the market. Fournier 2800 invisible ink barcode playing poker cards are one kind.Barcode invisible Fournier 2800 marking playing cards are ...
Read More >
The dream comes true for all magicians and poker players who love to use marked decks. Unlike other marked poker with invisible markings, marks on Phoenix marked decks set are extremely visual as they are perfectly blended into the design of Phoenix backs.Phoenix marked deck is designed for professional magicians and poker lovers who expe...
Read More >
Stripper Deck Bicycle by US Playing Card Company, is one of the outstanding poker cards of Bicycle series. Available in classical red and blue, there are two bicycle pattern on the back. In many popular magic performances and poker cheating games, Bicycle marked poker are welcomed by people.Magic Bicycle marked deck comes with markings on...
Read More >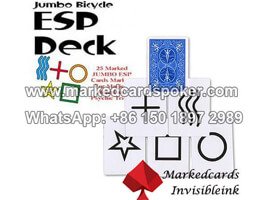 How does the magician see through the cards that the lucky audience choose? Does he really read mind? Of course not. Many magicians will choose cards with the marks on backs. They can know the cards content according to the marks on Jumbo Bicycle ESP decks. The marks can be printed in any places of the marked cards backs. And you can even design...
Read More >
Copag Pokerstar.net are 100% plastic playing cards which are poker size with jumbo index. Many marked cards players will reflect that some marked playing cards are very sticky after being processed, that is to say why the processed playing cards is different from the original playing card in touch feeling? The following will has a simple introdu...
Read More >